Chad Smith – Red Hot Chili Peppers/Bombastic Meatbats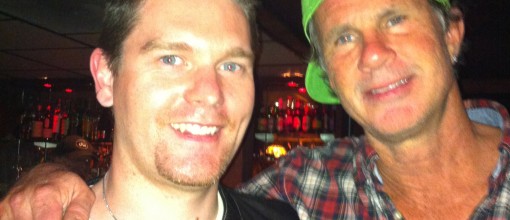 The Black Pearl Reference kit gives the only hint as to who is playing at the Baked Potato tonight. One tom up, two down and a 24″ kick drum is all Mr Smith needs to hammer out those stellar chops and grooves.
The last time I was here was to see Bozzio, Machacek and Johnson. A slight size difference in drum set tonight then. I seem to remember Terry having 4 bass drums, 13 toms and in the region
 of 30 cymbals.
Tension is in the air as the crowd is waiting to see such a fine band in a place that is roughly the size of your nan's living room. It's a slightly atypical Baked Potato crowd too tonight. Less middle aged men and more women than I have ever seen. And lots of young Japanese men. Many of them going with the Tetsu tash look too. Did they fly over just for the show perhaps?
The rest of the crowd are young guys copying Chad's backward baseball cap ensemble. It feels like there are more baseball caps than people in the house tonight.
Going against the stadium convention of "big impact from the first note", the players saunter into the room and share some jokes with each other, while very conscious that the audience are able to hear every word. Chad counts off the first tune and we are into classic funkalicious keyboard sounds and tasty grooves for the duration.
Jeff Kollman really shines on guitar this evening. He shifts comfortably between jazzy and light to driving and funky without any issue. He even does METAL with a little "between songs Judas Priest ensemble". Jeff told a disturbingly funny story of his youthful, long-haired, slightly feminine looking attendance to a Judas Priest aftershow. Where Jeff's appearance in the dressing room is acknowledged by Rob Halford in a deadpan Brummie two word greeting….
"I'm available"
That's to the point huh?
So then, laughs, great songs and plenty of soloing opportunities for all concerned.
It feels strange that I remember being 12 or 13 and and absorbing so much of Mr Smith's passionate playing. There are now kids in the audience who could be my son. And Chad could be their grandpa. Talent and class transcend generations like that. The playing always speaks for itself. And Chad just gets better.
He looks the same age as he did when I was pogoing to the opening notes of Give It Away at Wembley when I was 14. That was SEVENTEEN fucking years ago now. And you know… He remembers more about that gig than I do!
He was so generous and sublime in company. Seeming unaffected by the fame, notoriety and truck loads of cash that being a Chili Pep can provide. I was really hoping that he would be this way. And I left happier because of it.
Tonight was a rare treat that will not be repeated.