Terry Bozzio – Live at The Baked Potato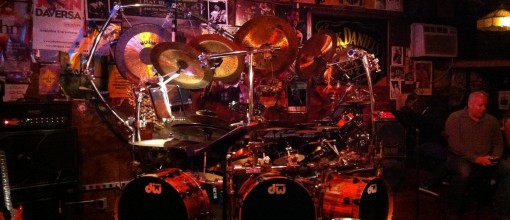 So. I went to Los Angeles. Where music still lives. And it lives
well there. I think that the only alarming part of this was how small the
audiences were for the gigs. Hell, the band that played in the hotel bar had
a bigger attendance.
There were highlights though. Terry Bozzio at the Baked Potato for instance.
Terry's kit took up more space than the audience.
And he was fantastic. Hearing a beautifully tuned drum kit up close, at the
mercy of someone so expressive and dynamic as Terry is always an education.
As you would expect with any of the ex-Zappa alumni, the notes were dense
and clustered in their delivery. It always concerns me how this type of
avant garde music speaks to those of us who are not noodley musos. Well, a
friend who was there certainly got it. She was mesmerised. The show made
such an impact, would probably marry Terry now. Ever humble yet supremely
confident, Terry was happy to talk after the show. Sharing his time and
person experience with those still there at the end of a long and energetic
set. A night to remember for the rest of my life.